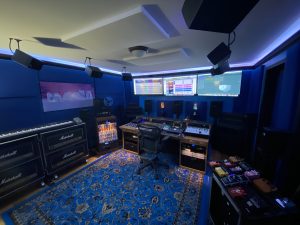 We are certified audio professionals who are passionate about music production. We strive for audio excellence, and we are Avid Dolby Atmos Certified. We mix to the highest quality standards and have been working and studying this technology for years to achieve these goals.
Spherical Sound Studios features a 9.1.6 Dolby Atmos Mastering Control Room, a world-class instrument collection, and iconic equipment from legendary artists.
We began building the Dolby Atmos Mastering Control Room in 2017. At a meeting in 2017 with Avid, Harmon Audio, and Dolby executives, the first equipment list and designs for Spherical Sound Studios were decided. In 2018, the installation was completed and we began mixing in Dolby Atmos®.
The control room features 17 JBL Studio Reference Monitors for optimal immersive mixing accuracy. Three front speakers, two forward sides, two sides, two rear, six ceilings, one Sub, and one LFE (Low-Frequency Effects) make this a Dolby Atmos 9.1.6 system configuration.
In April of 2022, we became the first approved Dolby Atmos Mastering facility in the State of Michigan. During the onboarding process, Dolby® experts adjusted speaker positioning, EQ, and timing, and tuned the room speakers to the proper Dolby® Atmos specifications.

Spherical Sound Studios has an unbelievable instrument and equipment collection full of legendary gear from iconic artists, ready for you to record with. We have the fastest guitar amplifier and speaker cabinet switching system available, with the capability of switching from 16 different amplifiers instantly with the push of a button while recording. We can record tracks or re-amp using different amplifiers and speaker cabinets simultaneously with our buffered splitting system.
The studios are clean and comfortable. We have a professional, relaxed environment that allows your creativity to flourish. We can also provide our world-class services remotely. We can re-amp, repair, mix and master audio without you being at the studio. We have a super-fast response time for your project's needs. Send us your stems and we will return your Dolby Atmos Deliverables in an ADM-BWF file, set to all the Dolby specification standards and limits, and ready for publishing.
Give us a call to discuss your project. We would love to help you excel in your audio journey.
-Avid Pro Tools Dolby Atmos Certified-